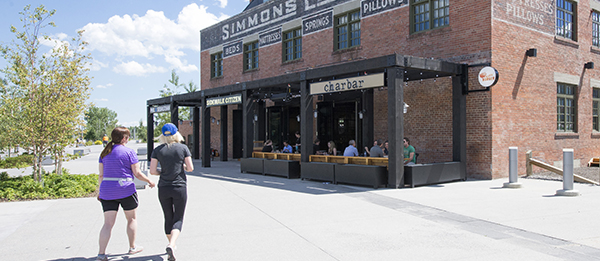 June 25, 2015 | CREBNow
Breaking bread in East Village
Simmons Building now open to public
Calgarians had their first opportunity to break bread at East Village's long-anticipated Simmons Building last week.
The grand opening celebrated three local food and beverage brands –
Charbar
,
Phil & Sebastian Coffee Roasters
and
Sidewalk Citizen Bakery
– and furthered the completion of what's being dubbed Calgary's "oldest, newest community." "For all three of us, this is a once-in-a-lifetime opportunity to be part of a single vision to build a new community and help it grow," said Sidewalk Citizen Bakery owner Aviv Fried. "The bread we broke today represents our appreciation for the community and the opportunity."
Guests at the event were treated to baguettes, while the three new tenants, along with Mayor Naheed Nenshi and other dignitaries, participated in breaking a five-foot loaf together before dolling it out to the surrounding crowd.
The vision for revitalizing East Village – once a blight on downtown Calgary's east end – began in 2007 when then mayor Dave Bronconnier and council created the Calgary Municipal Land Corp. (CMLC).
"In 2007 ... the CMLC embraced the challenge of breathing life into Calgary's oldest neighbourhood," said Nenshi. "You know, there were a lot of skeptics. I remember this one particularly skeptical but brilliant guy who wrote for the
Calgary Herald
who wasn't exactly sure this would work. Boy I'm glad I was wrong."
Included in the revitalization was the $6-million restoration of the Simmons Building. Originally known as the Simmons Factory Warehouse, the factory was constructed in 1912. During the Second World War, its sole purpose was to provide bedding for the military. The factory closed down in 1966 and sat for more than 40 years before being saved during the area's recent revitalization.
During restoration, certain historic elements were retained, including solid fir pillars, metal radiators, brick work, the old bank vault, the feather shoot and metal barn doors.
"We were very careful to maintain the historical value of the building while adding some modern appeal and amenities," said CMLC board chair Lyle Edwards. "No doubt, this rooftop patio will be the most popular hangout area in all of downtown Calgary."
As well as hanging out on the rooftop patio, public passing by the Simmons Building on RiverWalk have direct access to the building and its vendors.
"This is where we want to be, this is the building," said Phil Robertson of Phil & Sebastian.
The coffee roasters, in the early days of applying for the Simmons venue, approached Connie Desousa and John Jackson of Charcut and Fried, and put together a proposal in one week and "just went for it."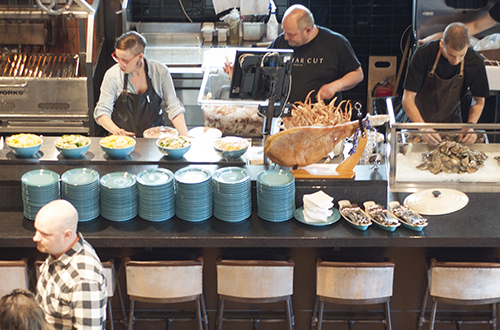 "We just love each other's' businesses. We're friends. We have similar attitudes toward doing amazing quality and supporting our communities," said Robertson.
In total, the vision for East Village's retail offerings includes more than 400,000 square feet of development.
Last September, RioCan announced its intention to build a 300,000-square-foot urban-scaled shopping centre, which will include a Loblaws market and other tenants.
Tagged: Calgary Community | Calgary Real Estate News | Charbar | East Village | Loblaws | Phil & Sebastian Coffee Roasters | RioCan | RiverWalk | Sidewalk Citizen Bakery | Simmons Building
---
---
Connect With Us