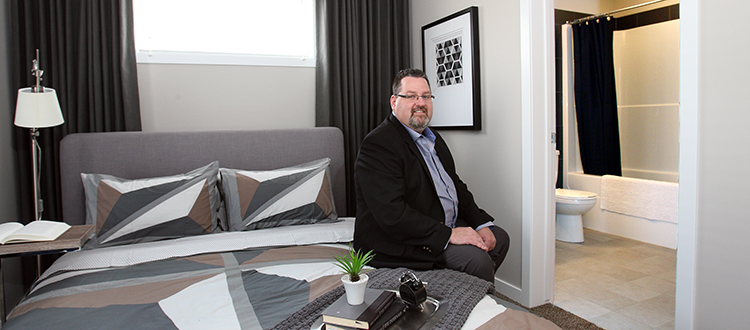 Duanne Addy, creative director of project development at Jayman Built, at Carnaby Heights. Photo by Wil Andruschak/for CREB®Now
March 29, 2016 | Tyler Difley
It takes two
Dual-master homes occupy important niche in Calgary market
Dual-master homes aren't a new phenomenon in the Calgary market, but they have long been popular among a growing cross-section of homebuyers whose needs cannot be met by a standard three-bedroom layout.
According to Wendy Jabusch, president of the Canadian Home Builders' Association-Calgary region, Calgary homebuilders have been building dual-master suites for roughly a decade, primarily in smaller home offerings.
"They would typically be in the small single-family homes, townhomes and that kind of thing," Jabusch said. "Certainly, in the apartment product, we've seen dual-master bedrooms for many years."
In a dual-master layout, rather than having one master bedroom and two smaller bedrooms, there are two master bedrooms with en-suite bathrooms at the expense of the third bedroom.
Within this segment of the market, dual-master layouts are still heavily outnumbered by standard three-bedroom layouts among the new offerings from homebuilders.
"It is more reserved to our smaller product line and I would say out of the smaller product line, maybe 10 to at the very most 20 per cent are dual master," said Duane Addy, creative director for Jayman Built.
The dual-master bedroom layout is a specialized product for a specific group of homebuyers, and consequently, its popularity has not expanded across the full spectrum of prospective homeowners.
"It's not a blanket popularity," Jabusch said. "It really is driven by the family formation. For instance, young buyers who either have children or are planning to start a family, they still want three-bedroom plans."
While a three-bedroom home is still the best fit for many young families or couples hoping to start a family, these are not the only people buying homes. For young adults who want to live with a roommate, downsizers who like to accommodate guests or single parents with a teenage child, a dual-master home is often better suited to their needs.
"People want that house to form around how they live their life," Addy said. "We're starting to see a shift in that people are looking for the house to adapt to what their lifestyle is."
At Trico Homes, the traditional three-bedroom layout is still their bread and butter, but that could start to change as the pool of homebuyers continues to expand beyond the nuclear family.
"We're still primarily three bedroom, but we're definitely seeing an increase in people with these family arrangements that are looking for the dual-master suites," said Erin Jorgensen, an area sales manager for Trico Homes. "We are seeing a little bit more amped up demand."
"The real advantage is that you basically have those private spaces where you can just have a little bit more space to yourself for your own activities," Jabusch said.
For many homebuyers who don't need a third bedroom, the reallocation of bedroom space in a dual master is a much better fit for their particular lifestyles and allows them to make the most of the square footage in the home.
"The approach that we're taking at Jayman is we basically design for how people live," Addy said. "The space you would be utilizing in that third bedroom, you can utilize it for actual lifestyle."
Even if homebuyers opt for a dual-master home, they can choose to renovate down the road if their needs change. According to Jorgensen, it's common for dual-master homeowners to add a third bedroom at some point?—?giving them the best of both worlds.
"People that typically do the dual master, they often do basement development," she said. "That way they're getting the third bedroom. I've seen that over and over again."
Tagged: calgary homes | Calgary Real Estate | Calgary Real Estate News | CHBA | Homebuyers | Jayman | Residential | Trico Homes | Uncategorized | Wendy Jabusch
---
---
Connect With Us