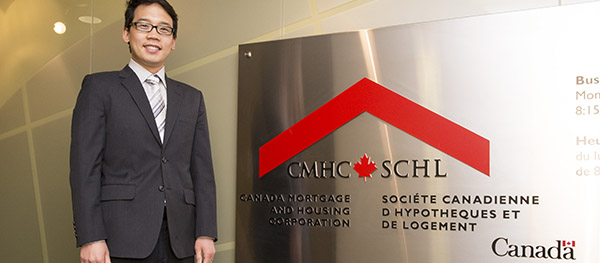 CMHC's Richard Cho says everything from employment levels to household income and migration to spending levels signal to tough times ahead for the local housing market. CREB®Now file photo.
Nov. 26, 2015 | Cody Stuart
Five things about CMHC's housing outlook
Yearly update on the local and national housing markets
Canada Mortgage and Housing Corp. (CMHC) has issued its outlook on the local and national housing markets. Detailing several factors impacting Canada's housing market -- both new and resale - CMHC's numbers provide a basis for what to expect heading into the remainder of 2015 into 2016 and beyond.
To help provide a little more understanding,
CREB®Now
digs a little deeper into CMHC's Outlook.
Oil
With the Alberta government taking in $170 million a year for every $1 increase in the price of oil, it's no surprise the asking price for any home sold in Alberta is going to be impacted by the going rate for crude. With many predictions hinging on where oil goes, CMHC is forecasting prices to remain between $48 and $52 US per barrel through the end of 2016.
Construction
With the number of new Calgarians expected to drop dramatically, falling from 36,521 in 2014 to just 18,000 in 2015, the number of new homes built in Calgary is expected to react in a similar fashion. With builders responsible for 17,131 homes in 2014, CMHC predicts total starts to fall from 17,131 in 2014 to 11,900 in 2015. While 2016 starts are again expected to decline in 2016, falling to 10,000, the number of new single-detached homes is expected to remain the same with 4,000 in both 2015 and 2016.
Prices
Having climbed from $588,179 in 2014 to $634,979 in 2014, CMHC is forecasting the average price for a Calgary home to close out 2015 at $745,000. Following such a period of growth, CMHC predicts the average price of a new single-detached home to decline to $720,000 in 2016 before climbing to $732,000 in 2017. Having fallen slightly from the $460,584 in 2015, CMHC predicts average prices in the resale market to post a slight increase from $451,000 in 2015 to $454,000 in 2016 and $463,000 in 2017.
Listings
Along with a decline in the asking price of Calgary homes, both new and resale, the number of homes up for sale is also expected to decline. After topping 48,000 in 2014, CMHC is predicting new listings in Calgary's resale market to fall by 14.7 per cent to 41,000 in 2015. After falling again to 39,000 in 2016, CMHC predicts listings to rebound slightly in 2017, increasing to 40,000.
Sales
With CMHC predicting unemployment in Calgary to rise from five per cent in 2014 to 6.2 per cent in 2015 and 6.4 per cent in 2016, the job security of more Calgarians may come into question. As a result, fewer Calgarians will be looking to change addresses. After posting 33,615 sales in 2014, transactions in Calgary's resale housing market are expected to fall by 27.7 per cent to 24,300 in 2015. Sales are expected to remain relatively unchanged in 2016, increasing by 1.6 per cent to 24,700 with similar growth in 2017 when sales are forecast to hit 25,200.
Tagged: Calgary Real Estate News | Canada Mortgage and Housing Corporation | CMHC | Energy | Home Prices | Housing Prices | in-migration | new home market | oil and gas | Resale Housing Market
---
---
Connect With Us