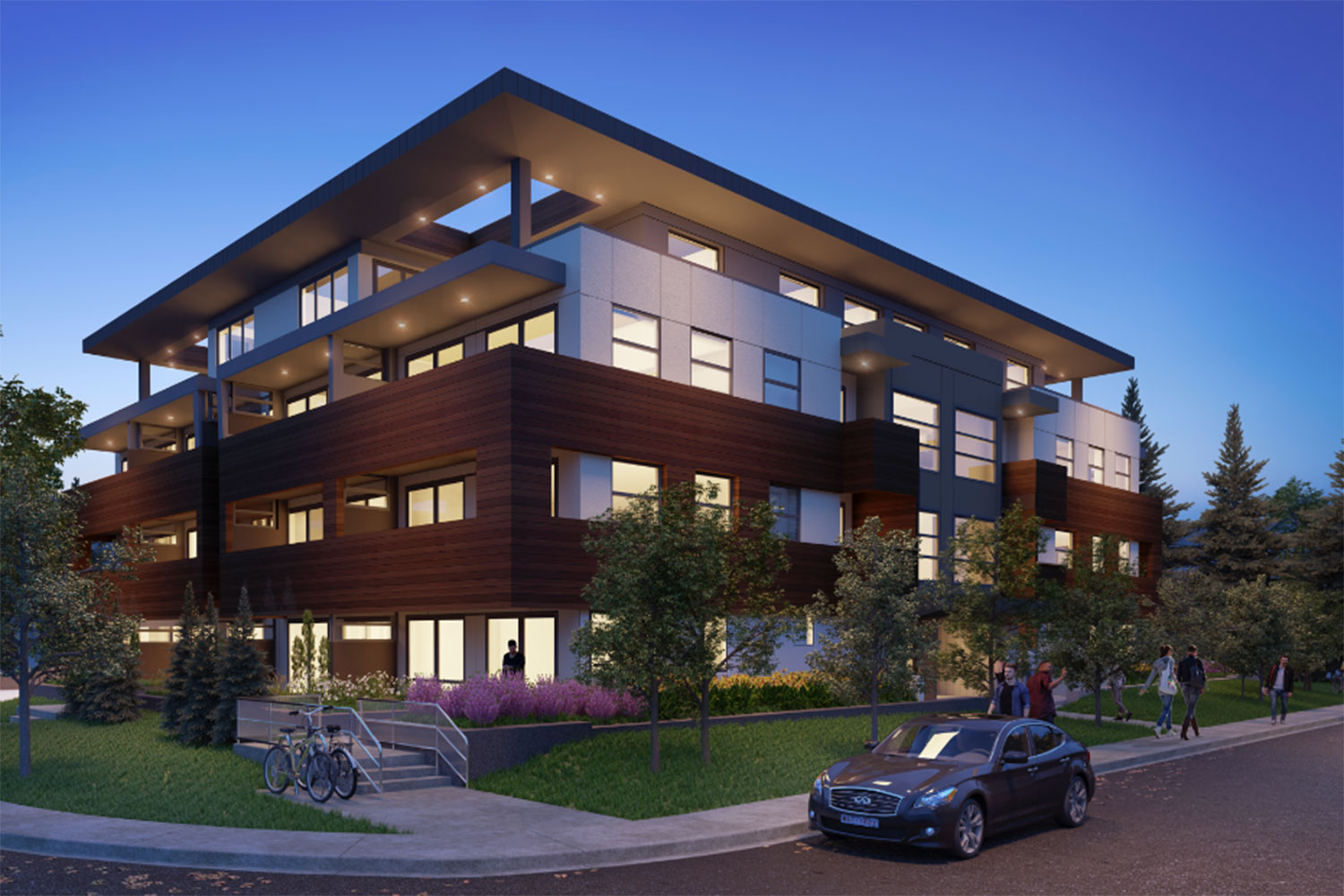 Courtesy Castera Properties & Groupe Denux
June 19, 2019 | Barb Livingstone
Mantra and Marlo add to new-condo mix in Marda Loop
Marda Loop – the popular business district that unites the inner-city neighbourhoods of Altadore and South Calgary – has become a go-to address for new condo development, including two recently launched projects that are now under construction.
The stacked-townhome-style Marlo and apartment-style Mantra are two of the newest developments banking on the charms of an area awash in walkable amenities, from restaurants, pubs and grocery stores to more than 100 upscale boutiques.
Calvin Buss, director of sales for the 33-unit Mantra, says Marda Loop is Calgary's best-priced inner-city area and the multi-demographic residents are "passionate" about the community.
He says Mantra's developers, Castera Properties and Groupe Denux, were so impressed with the location that they immediately started construction.
"The owners said, 'we don't need pre-sales. It's a great neighbourhood, let's just build it,' " said Buss.
Buss expects sales – and the building itself, which is located at 35th Avenue and 21st Street S.W. – to be completed by December. Prices start at $227,044 for a 429 square-foot, one-bedroom unit to $691,648 for a three-bedroom/two-bathroom penthouse of 1,392 square feet.
Mantra has 27 underground parking stalls and its own smart car for buyers not interested in owning a vehicle.
"The owners said, 'we don't need pre-sales. It's a great neighbourhood, let's just build it.' " - Calvin Buss, Mantra sales director
Meanwhile, Vericon Communities' Marlo is being built on a one-acre-plus land parcel and will feature 48 stacked townhomes in five separate buildings.
It sits in a residential area four blocks from Marda Loop's main retail/entertainment area and three blocks from River Park, with its off-leash dog area and extensive trails on the ridge above Sandy Beach.
The first building, under construction along 16th Street S.W. between 35th and 36th Avenues, will have 14 units. One-, two- and three-bedroom suites range in size from 597 square feet to 1,681 square feet, and in price from $209,000 to $659,000, plus GST. The stacked layouts ensure every homeowner's door opens to the street.
Marlo emphasizes the affordability and attractiveness of condo living in the neighbourhood, for everyone from first-time buyers to downsizers. A one-bedroom/one-bathroom unit reached – like New York brownstones – by going down six steps, with large windows and a patio, is $200,000.
On the other hand, a downsizer might choose the two-storey, three-bedroom, 1,622-square-foot unit with 500-square-foot rooftop deck for $630,000.
Sales manager Matthew Chiacchia says sales are going well, and buyers are expected to move in by spring 2020.
Tagged: Altadore | Calgary | Calgary Real Estate | Calgary Real Estate News | Calgary Real Estate News | Castera Properties | Condos | Condos | Groupe Denux | Mantra | Marda Loop | Marlo | new-build | South Calgary | townhomes | Vericon Communities
---
---
Connect With Us