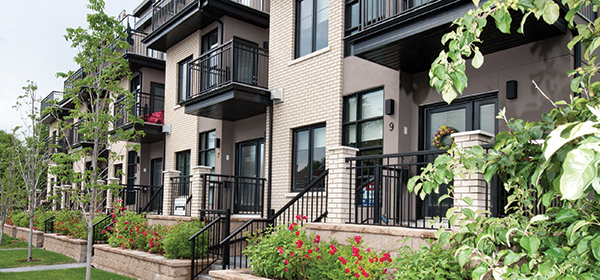 July 10, 2013 | Cody Stuart
Growing Strong
Driven by dropping inventories, a new report shows prices across housing types in Calgary have seen strong growth over the last year.
According to the
Royal LePage House Price Survey and Market Survey Forecast
, detached bungalows increased by 5.9 per cent year-overyear to $457,889, while condos saw an increase of 6.0 per cent to $261,933. The greatest price growth occurred in the standard two-storey home sector, where prices increased 6.7 per cent to $453,789. "Inventory is low across all categories right now, and this is driving prices up," said Ted Zaharko, broker and owner of Royal LePage Foothills. "When a listing comes up, there is a swarm of potential buyers and multiple offers are common."
Zaharko added Calgary's condo market is currently reaping the benefits of buyers breaking into the tight bungalow market, to the point where the condo market is seeing tightening inventory.
Through the first eight days of July, total sales in Calgary increased 9.2 per cent compared to the same period in 2012. Despite the increase in sales, active listings have dropped considerably, falling by more than 20 per cent when compared to last year. Active condo townhome listings, one of the sectors singled out in the report, have fallen more than any other segment of the market, dropping by 33 per cent when compared to last year while year-to-date sales in the sector have increased by 21 per cent.
Year-to-date, the average number of days Calgary homes have spent on the market before being sold has also decreased, falling from 380 to 367.
On the topic of the flooding that took place in the city, Zaharko doesn't expect the impact on the market to be long term.
"We're saddened by the recent events and wish a quick recovery to all those affected. From a market standpoint, while there may be some irregular activity in the short-term we do not foresee these events having a long-term impact on housing activity or prices in the Calgary area," he said.
The report also discussed the direction of Canada's housing market as a whole. With changes to Canada's mortgage lending rules in mid-2012 coupled with concerns about consumer debt levels, housing affordability in cities like Toronto and Vancouver and continued international economic uncertainty, a number of analysts have forecast large downward price adjustments for the industry.
"As we have stated consistently since the current market downturn began late in the second quarter of 2012, this is a normal cyclical correction which brings fewer home sales and softer prices. Those hoping their predictions of a bursting bubble and cataclysmic drops in home values will come true are out of luck again," said Phil Soper, president and chief executive of Royal LePage. "Price appreciation in most markets across the country has been well below the long-term average for Canada and will remain so through to the end of the year. We expect to see the number of homes trading hands to begin to rise slightly on a year-over-year basis in the second half of 2013, with price softness continuing until mid-2014, at which point we'll see an emergence from the current cycle."
Tagged: Calgary Real Estate | Calgary Real Estate News | Housing Prices | Royal LePage
---
---
Connect With Us