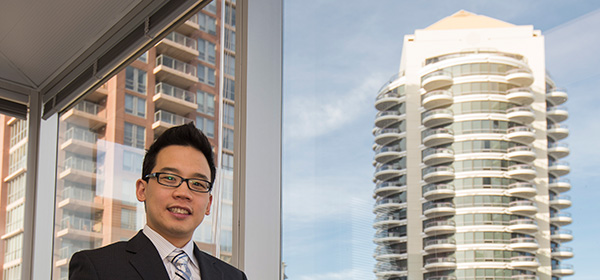 Nov. 20, 2013 | Cody Stuart
Looking Up
Calgary continues to be a city on the rise.
Driven by impressive net-migration numbers and record employment growth,
Canada Mortgage and Housing Corporation (CMHC)
is forecasting increases for nearly every category of Calgary's housing market. Speaking at this year's Housing Market Conference, Richard Cho, CMHC's senior market analyst for Calgary said MLS® sales in the city should reach 29,200 units by the end of 2013, an increase of 9.6 per cent over 2012.
"Over the last two years, [Calgary] has added about 60,000 people," said Cho, who led off his presentation at the Alberta Housing Outlook Conference with the words "up, up, up."
"That's a lot of people who will be looking for housing.
While CMHC is predicting net migration to the city to drop substantially in 2014, falling by more than 23.3 per cent from the 30,000 seen in 2013, Cho said resales in the city should continue to increase in 2014, rising by 2.7 per cent.
On the heels of four consecutive years of record employment growth, Calgary's job situation is also expected to continue its upward climb next year. Mirroring the escalation in construction slated for downtown Calgary, employment growth in Calgary is forecast to climb by 2.5 per cent in 2014 after increasing by 2.8 per cent in 2013.
Other driving factors singled out by Cho included Calgary's cramped rental market, which along with low mortgage rates, Cho said has contributed to the rise in new homebuyers in the city. According to CMHC, the October vacancy rate is expected to decline for the fourth consecutive year in 2013, averaging 0.8 per cent.
Rents in the city are also on the upswing, with the average rent for a two-bedroom anticipated to increase to $1,280 per month in 2014, up from $1,150 in 2012.
Cho did however provide some good news for renters in the city.
"For several years, there was not a lot of purpose-built rental construction in Calgary," said Cho. "However, with vacancy rates expected to remain low and rents moving higher, more purpose-built rental construction is expected. Over 450 market rental unit starts were recorded in 2012, with close to 200 more started thus far in 2013."
With more rental units coming on to the market, Cho said Calgary's vacancy rate should rise slightly in 2014, increasing to 1.2 per cent.
Along with increased construction in the rental sector, Calgary's new housing market is also slated to see plenty of activity. After declining by nine per cent to 11,700 in 2013, CMHC is predicting total housing starts in Calgary to rebound in 2014, increasing by 12 per cent to 13,100, spurred largely by a rise in multi-family starts.
"While increases are expected for single-detached starts, multi-family starts will experience more pronounced gains in 2014 following the reduction this year," said Cho. "Low rental vacancies and rising prices in the single-detached market will increase demand for multi-family units. This, combined with lower inventories, will prompt more multifamily construction in 2014."
Driven by fewer listings, which CMHC is predicting to increase by 0.9 per cent in 2013 and 2.4 in 2014, single-detached starts are forecast to reach 6,200 units in 2013 up four per cent from 5,961 units in 2012. In 2014, single-detached starts are forecast to increase five per cent to 6,500 units.
"Due to fewer active listings in the competing resale market, some buyers have chosen to purchase a new home when they could not find a suitable existing unit, said Cho.
When it came to how much Calgarians will be paying for their homes, CMHC is predicting yet another increase in 2014. By year-end, the average price is forecast to finish at $436,500, up 5.9 per cent from $412,315 in 2012. However, average prices are expected to moderate in 2014, increasing by just 2.4 per cent to $447,000.
The gains in employment and net migration combined with a relatively affordable housing market have encouraged demand growth and price recovery over the past few years, said CREB® Chief Economist Ann-Marie Lurie. "Assuming that the energy sector does not face any setbacks, we anticipate continued strength in the housing sector."
Useful for comparing price levels and growth for specific benchmark homes, CREB®'s unadjusted benchmark prices in October saw single-family prices benchmarked at $468,000, while the benchmark price for condominium apartment and townhouse were a respective $276,100 and $302,200 in October.
Also on hand for the conference was City of Calgary Acting Land Use Planning and Policy Director Matthias Tita, who shared information on the floods that hit the city in June. According to Tita, some areas impacted by flooding have actually seen an increase in property values.
"People know they're moving into something that's up to standard," said Tita.
Tagged: Calgary Housing Market | Calgary Real Estate | CMHC | CREB® Chief Economist Ann-Marie Lurie | Uncategorized
---
---
Connect With Us