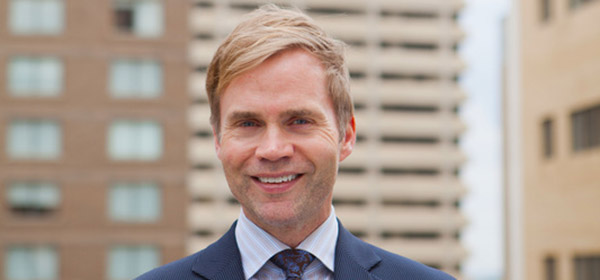 ATB Financial chief economist Todd Hirsch. CREB®Now file photo
Sept. 09, 2015 | Cody Stuart
5 things about the economy: ATB's Todd Hirsch
ATB Financial chief economist Todd Hirsch recently spoke at CREB® to outline some of his predictions for Alberta in 2016. During the talk, Hirsch discussed some causes for the current state of the provincial economy and factors that will need to change before Albertans see a rosier economic picture. CREB®Now examines some of the main talking points discussed during his visit.
Earnings:
Rather than simply pointing out the decline in the price of oil, Hirsch focused on the wages being earned by some Albertans as one of the factors affecting Alberta's current situation. Playing a massive role in province's employment picture, the average weekly earnings for Albertans had improved by 48 per cent over the last 10 years compared to 29 per cent nationally, with workers in the energy sector taking home 56 per cent more than a decade ago.
Prices:
While the price of a barrel of West Texas Intermediate (WTI) had been as high as $107 US last summer, this summer has seen prices decline as low $38, creating serious instability in Alberta's resource-dependent economy. Before the provincial economy can achieve any sort of balance, Hirsch said oil must hit a minimum of $60/barrel.
Diversity:
While sometimes forgotten when Alberta's energy industry is hitting on all cylinders, Hirsch emphasized the importance of other sectors of the province's economy to play more major roles during the current downturn. Bolstered by a strong U.S. housing market, Canadian companies' share of lumber production in eight southeastern states has quietly grown to 25 per cent from just three per cent a decade ago, according to Forest Economic Advisors LLC.
Currency:
Another major factor in a recovery for Alberta's economy will be the continued downturn of the Canadian dollar. While coming as bad news for those headed south of the border, a Canadian that lingers below 80 cents US – which is where Hirsch expects it to be – is good news for tourism in the province, as well as Canadian exporters.
Rates:
With the Bank of Canada recently announcing it would hold steady on the overnight rate, keeping it at 0.5 per cent, Hirsch doesn't see things changing anytime soon. During his talk, Hirsch said he expects the current rate to be around until "at least" summer 2016, with no major increases confronting homeowners in the longer term.
Tagged: Alberta Economy | Calgary Real Estate News | earnings | lending rate | Oil Prices | Todd Hirsch
---
---
Connect With Us