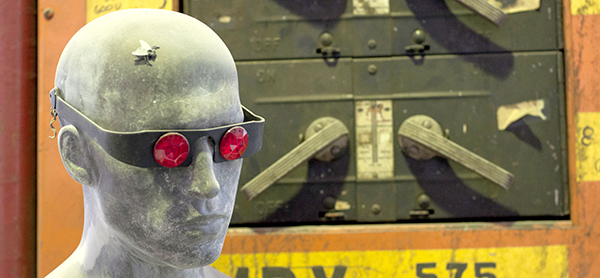 Sept. 04, 2014 | CREBNow
Theatres and thoroughbreds
Doors Open YYC making stops at F&D Scene Changes and Calgary Stampede
A 30-year-old business that transforms dreams into reality and a century-old fixture on Calgary's landscape are just two of the expected bright spots at
Doors Open YYC
later this month.
F&D Scene Changes
and the
Calgary Stampede
grounds will be among more than three dozen sites featured in this year's local program, scheduled for Sept. 27-28.
F&D is celebrating its 30th anniversary this year, having designed, fabricated and installed its products for theatre, television, movies, theme parks, museums and trade shows. The company's work has included the bigger-than-life penguin statue at Calgary Zoo's Penguin Plunge and props featured in the film
The Bourne Legacy
. The company's clients have included Cirque du Soleil, Universal Studios, Broadway, the Centre Theatre Group in Los Angeles, Glenbow Museum, Blackfoot Crossing Historical Park and CrossIron Mills.
"(Owner Bruce Robinson) started the company 32 years ago with a couple pickup trucks and a couple skill saws," said F&D project manager Greg Chown. "[Since then] we've grown in size and scope. Back in the '80s, our first Broadway show we did was Les Miserables."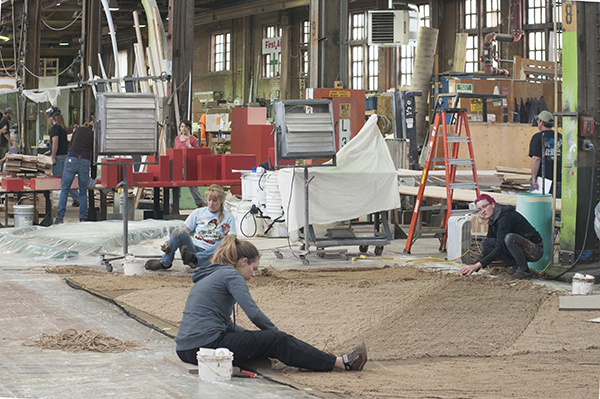 Added project co-ordinator Nicole Ames: "We've done everything from theatre shows to Disney, Universal Studios, zoos and theme parks."
From the bright lights of Broadway, Doors Open will also take visitors to F&D's southeast neighbour, and regular client, the Calgary Stampede.
Since the inaugural Frontier Days and Cowboy Championship dreamed up by Guy Weadick, the Calgary Stampede has become a symbol of the city itself. Doors Open visitors will get a chance to tour the grandstand, infield and barns, as well as get a first-hand look at how the Greatest Show on Earth comes together.
The Doors Open tour will also include the new art installation of Stampede Champions, the "Eye in the Sky" where the chuckwagon caller sits and a glimpse of where the real stars of the show, the horses, make their homes for the 10 days of Stampede.
For visitors to the Calgary Stampede for Doors Open this year, closed-toe shoes are required.
This is the third year for Doors Open YYC, which was launched in 2012, the same year the city was named "Cultural Capital of Canada" by the federal government. The program itself was founded in Scotland nearly 25 years ago to help build civic pride, and since become a worldwide sensation.
"Over the three years, it's been an interesting sort of travel in how [Doors Open has] evolved," said Alyssa Berry, Doors Open YYC marketing committee representative.
"We have several new sites that have come on board this year. As we continue to grow and as we continue to get more sites involved, different various sites, people will see the success of it and want to become involved."
Tagged: Calgary | Calgary Community | Calgary Stampede | Doors Open YYC | F&D Scene Changes | sites
---
---
Connect With Us