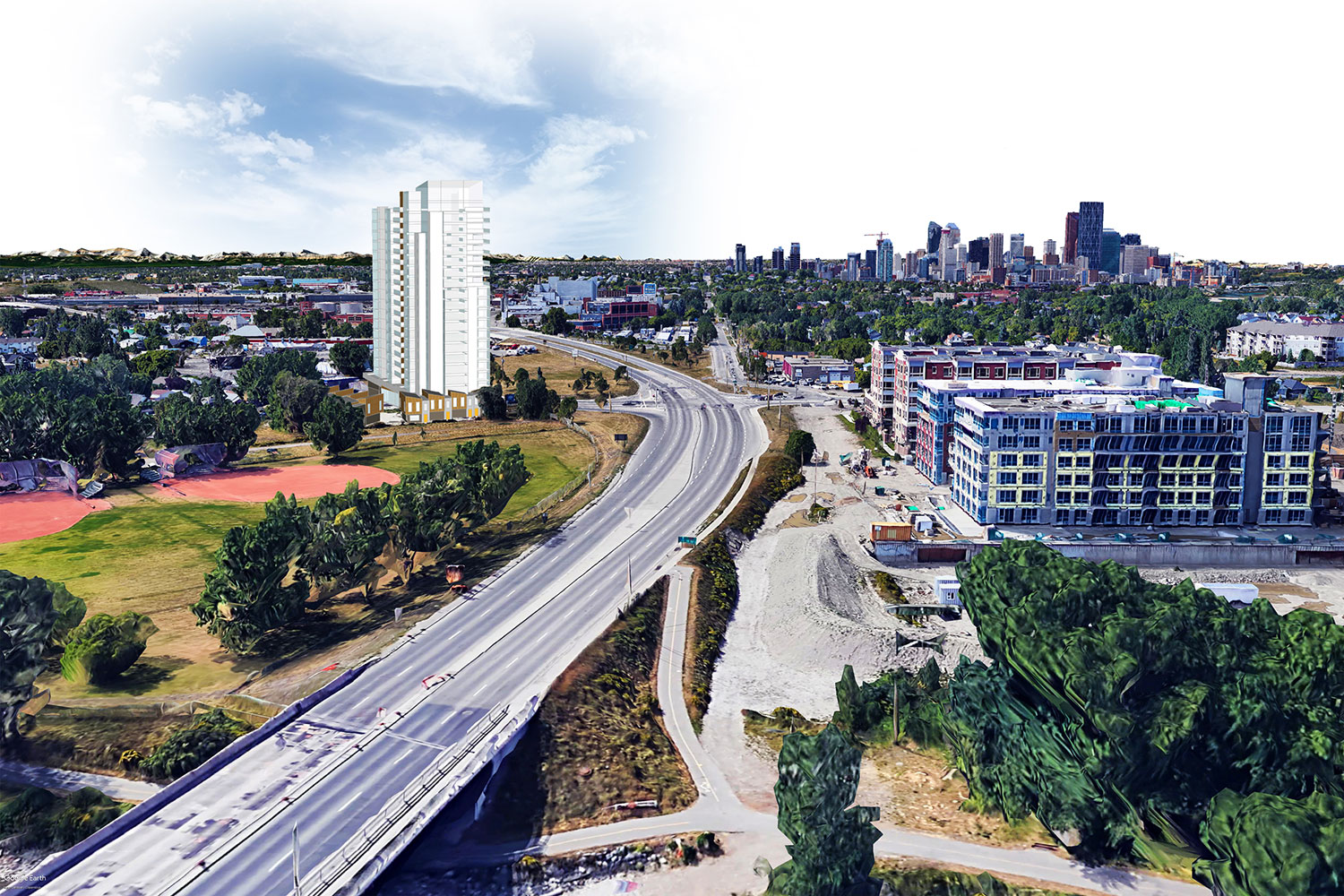 The Grid - a proposed, 20-storey, mixed-use condo development - would be the first of its kind in Inglewood. Courtesy B&A Planning Group
March 21, 2018 | Karen Durrie
Common ground
Proposed Inglewood condo tower will stand tall, but hurdles remain
A proposed 20-storey, mixed-use condo development for Inglewood would be the first of its kind in the neighbourhood, but has also raised concerns among some of the community's residents.
B&A Planning Group has been hired to consult on the project on behalf of a group of investors, and launched a community engagement process last year with brochures, open houses and town hall meetings.
The project plan includes 180 condo units, plus 14 townhouses and small-scale commercial spaces at its base.
Following community feedback, some aspects of the design are being refined, says Daniel MacGregor, senior planner with B&A.
"The height might be dropping a bit," he said. "It will be kind of a gateway development for the east side, so we hope to have really great design, and NORR (Architects) has been working to something high quality."
The building's base design has been adjusted to reflect the area's character, with brick and wood construction, and spaces for amenities residents expressed a desire for, such as a community-oriented coffee shop.
"It will be kind of a gateway development for the east side, so we hope to have really great design, and NORR (Architects) has been working to something high quality." - Daniel MacGregor, B&A Planning Group senior planner
Leslie Robertson, planning director for the Inglewood Community Association, says there are several concerns about the property that sits near the corner of 19th Street and 17th Avenue S.E.
"The existing zoning on (the property) now is 12 metres, and they are talking about 63," said Robertson. "In our draft ARP (area redevelopment plan), the max will most likely be 20 metres."
She also outlined concerns about the development's impact on the nearby Inglewood Bird Sanctuary, the new Bend in the Bow Park that is under development, and the remediation of the proposed build site, which was formerly a Husky gas station.
The tower, which is known as The Grid, has also encountered regulatory problems related to its location along a flight path, and developers are currently seeking exemptions to residential development restrictions.
The City's transportation department won't allow direct access to the development from 19th Street S.E. because it's so close to the Blackfoot Trail intersection, so its main entry and exit would be via Seventh Avenue S.E.
The Grid would also fall in a flood-fringe zone.
"So it's not just one issue, not just a one-trick pony," said Robertson. "A whole lot of things have come up, and there may very well be solutions for some of them."
It's not that the community is against new development in the area, or against increased density in general, she adds, it's just a matter of appropriate development for the area.
"When you talk about putting elements into the podium of a very large building that are 'heritage in nature,' you are still left with a pretty big stick up top, and I think to say it's putting lipstick on a pig would be a little unkind, but that's pretty much what it is," she said.
MacGregor says B&A has taken all community concerns seriously, and has responded to each one.
A 2017 environmental assessment of the site showed "areas of minor concern," but necessary clean-up measures will be undertaken to remove contamination.
Developers are hoping for an exemption to the Airport Vicinity Protection Area restrictions currently prohibiting residential development there. Other site-specific exemptions in the area have been allowed, B&A states.
B&A says the flood-fringe location is "not a major issue," since only portions of the site are located in the area, and mitigation measures will be included in the design.
As for the height of the tower, B&A acknowledges the privacy concern, and will consider ways to address it, including the location of balconies.
B&A is in the process of submitting the land-use application to the city for The Grid, and, if approved, construction could begin by 2019.
Tagged: Airport Vicinity Protection Area | B&A Planning Group | Bend in the Bow | Calgary Real Estate News | Condos | Daniel MacGregor | Feature | Inglewood | Inglewood Bird Sanctuary | Inglewood Community Association | Leslie Robertson | NORR | The Grid
---
---
Connect With Us