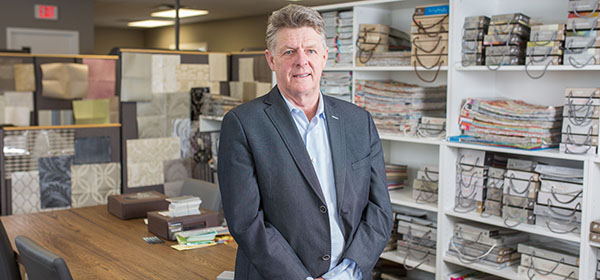 Ultimate Renovations president Danny Ritchie says he's familiar with the highs and lows of Calgary's economy, particularly as it relates to homeowners electing to "stay put" during a downturn. Photo by Adrian Shellard/For CREB®Now
Dec. 15, 2015 | Rose Ugoalah
The allure of staying put
Canadians are choosing to invest in home renovations over new home purchases
Canadian renovation activity is on the rise as the economic lull in the real estate market has left some homeowners reluctant to move, instead opting to update.
In a recent report, Scotiabank senior economist Adrienne Warren found spending on home additions, new installations and replacement of equipment rose six per cent year-over-year through the first half of 2015, with renovation spending up in most provinces and outlays on track to total $53 billion this year.
Warren said current homeowners looking to upgrade are seeing renovations as an attractive option, as industrial price inflation for many renovation-related construction materials, equipment and household goods – such as kitchen cabinets, appliances and furniture – remain consistent.
The report also noted renovation expenditures are typically seen less volatile than home sales and new construction. That said, "there is also the potential for a bigger pullback in home sales and residential construction if the economy is unable to regain increased traction."
Lynn Donaldson, president of the Calgary-based design-build firm Lynn Donaldson & Associates, agrees that Canadians are trending toward renovations. Her firm handles exterior and interior renovations ranging from home additions to the complete gutting of a home's interior, with kitchen remodelling being the most popular renovation request.
"I anticipate lower-cost renovations," she said, noting her firm has several repeat clients, and it is not unusual to renovate the same house many years later.
Although Donaldson has seen a decrease in demand for large-scale renovations, those in the $100,000-to-$200,000 price range have remained steady. In addition, the cost of labour for home renovations has remained the same, despite the Canadian dollar's poor performance against the U.S. greenback.
Ultimate Renovations president Danny Ritchie said he has become familiar with the "roller-coaster" highs and lows of the economy over the past three-plus decades – particularly the trend of homeowners electing to "stay put" during an economic downturn.
"This is a good time to renovate," said Ritchie, whose company oversees renovations ranging from $50,000 to more than $1 million. "The manpower is there and the price is good."
Homeowner Julie Ruttan recently downgraded from a two-storey house she owned for 35 years, to a 15-year-old bungalow she purchased last year. Knowing it would likely be her "last home," she spent a year upgrading the bungalow's interior, which involved moving walls, redoing the kitchen and generally fitting the home to suit her family's needs.
Ruttan appreciates the renovations allowed her to customize her home to her needs.
"When you're buying a new home you have to live with what you get, but renovations allow you to customize your space," she said.
Tagged: Calgary Real Estate News | Economy | Home Buyer | Home Renovations | homeowner | Housing Prices | renos | YYCRE
---
---
Connect With Us